Get Free
Auto Shipping
Rates for the delivery of any vehicle nationwide on this site.
Car Transport photos

Car Transporters in Action

The above picture really shows you the large size of the vehicle shipping truck. You can notice many different vehicles on the car transport carrier that are being delivered. While these large auto transport carriers drive on the highway they usually travel fast to delivery all the vehicles on time, so please be kind and move out of there way when they are traveling.

Close up of vehicle on top row of car transport truck

The above picture you can see a great shot of a toyota prism riding on the top part of the car transport carrier. You can see how strong the metal ramp in holding the toyota vehicle as it easily suspends it in mid air. These vehicle shipping trucks are very strong and can haul most any vehicle.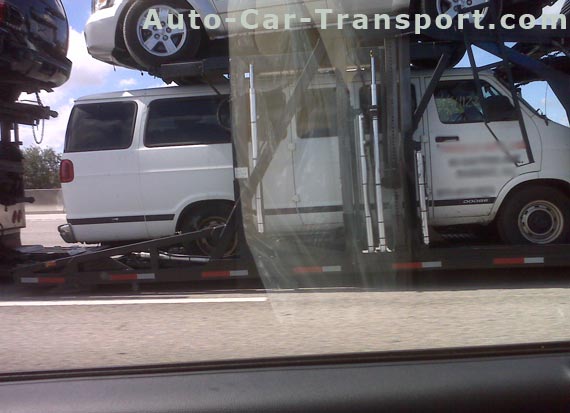 This is a very good example to show you how the auto shipping carrier can provide car delivery service for very large vehicles such as SUV's and in this case a extra long cargo van. The ramps of the car transport carriers are created to withstand large weight. One thing you should remember is if your vehicle is very large it is wise to notify the car transporters before they actually book your shipment. This is because very large or in this case long vehicles on the carrier may require specail handeling as well as auto shipping companies need to make sure your vehicle will actually fit on there delivery trucks.
All text, pictures, html coding, wording, phrases, designs, type and information are Copyright © Auto-Car-Transport .com Inc. No unauthorized use or distribution allowed. Violators will be prosecuted using applicable laws governing internet copyrights.

Auto-Car-Transport.com - Vehicle Shipping Directory for helping you get free rate quotes from professional car delivery companies your your state.