Some auto transporters use open sided carriers to deliver your vehicle. One picture below is an example of an open sided truck delivering SUV's and mini vans.
Get Multiple Free Quotes for Car Transport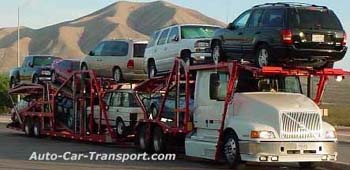 Open Car Delivery carrier
This is a fully loaded 9 car carrier, this is the work horse of auto transport, the standard vehicle used for almost all auto transport that involves standard size vehicles. One look at the nine car transport carrier, and it is easy to see why enclosed vehicle shipping cost more. The typical enclosed car transport carrier only transports three cars at a time. Even with nine cars on board there is plenty of space between each vehicle to insure that each car is protected from the other vehicles being shipped.
Auto-Car-Transport.com - Vehicle Transport Directory.
The most affordable way to transport your vehicle is open car transport carriers. While some enclosed car shipping service only holds three cars the open auto carrier can hold up to nine cars. After you take a look at our discounted vehicle shipping rates you will find an auto shipping service that will fit your needs. These car transport companies are fully insured and licensed to transport your auto, truck, SUV, motorcycle or other vehicle safely to it's location. Put your trust in the people with years of experience in the auto transport industry.