Shipping a vehicle in using enclosed auto transport carriers to make sure the car arrives clean and in good condition.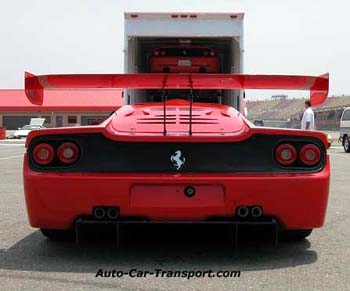 Enclosed Car Transport carrier
This Ferrari is being loaded into a Enclosed Car Transport carriers. The enclosed car transport truck in the photo has two levels and can fit multiple cars. Exotic cars such as this ferrari, require extreme caution when being loaded and unloaded from car transport carriers. Auto transport drivers are usually well trained on how to handle cars of such nature.

Note: In any case regardless if you are shipping a Ferrari or a Bmw automobile, make sure and notify any major vehicle modifications to the car transporters before they come and pick up your automobile for delivery, so as to avoid any delays. For example: If you scheduled a car transport service for your 2007 BMW 3 serious and the auto transport carrier arrived to pick up your vehicle and then they notice your car has been modified with low profile tires and a Avo Suspension lowering springs...there may be a problem.
Vehicle shipping companies have different trucks to transport different cars. So always note any modifications so that they can send the correct auto transport carriers truck to pick your automobile.
Take a look at the great rates for exotic car shipping services at our site. We will provide you with a reliable vehicle transport service at great rates nationwide. The auto shipping companies we provide you with are backed by years of experience as well as official licensing and insurance that will ship your exotic car safe and sound. We provide professional enclosed car transport nationwide as well as overseas.